Poke Bowls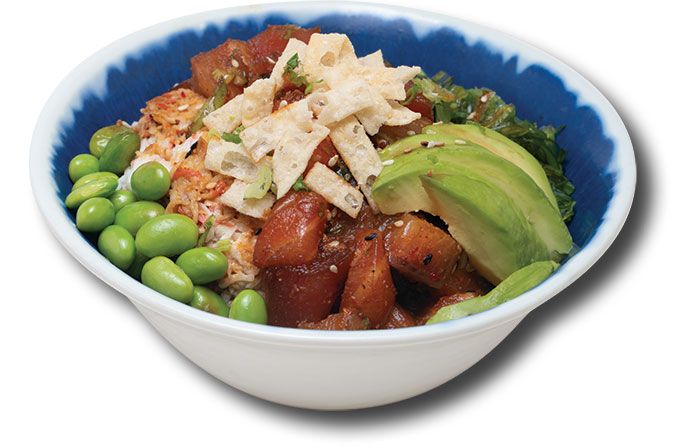 Our newest addition has been called "Portable Sushi meal to go." A hefty 24 oz. of proteins and toppings over rice or greens can be made in minutes and enjoyed at work, at home or even in the restaurant! We carefully weigh our poke bowls by the oz, not by the size of the bowl, to ensure you receive the full amount we advertise.
All selections are available for call-in or walk-in at this time.
(775) 883-2372
---
Option 1:
Rainbow Mix Bowl
A hefty 6-scoops (6 oz. total) equal portion of of Tuna, Yellowtail & Salmon, mixed in poke sauce over sushi rice or greens, topped w/ crab mix, avocado, seaweed salad, edamame, fried wontons, teriyaki sauce, and sesame seed.

Option 2:
Build your own bowl
The same 24 oz. deal! Choose your proteins (up to 6 scoops), mix and match sauces and toppings
Step 1: Choose your Protein(s)
Fried Tofu
Tuna (Ahi)
Salmon
Yellowtail
Tiki Tuna
Fire Tuna
Fire Salmon
Step 2: Choose your Base
Step 3: Choose your Sauces
Poke Sauce
Sriracha
Spicy Mayo
Ponzu Sauce
Teriyaki Sauce
Step 4: Choose your Toppings
Crab Mix
Tobiko
Cucumber
Avocado

Seaweed
Edamame
Fried Wontons
Sesame Seed
If you want anything special from our full menu, just ask, and we can mix and match to your taste for a nominal upgrade fee!